If you work in the field of Dynamic Signage, new FDA ruling will have a positive impact. The U.S. Food and Drug Administration finalized two rules a few days before Thanksgiving (appropriately) requiring that calorie information be listed on menus and menu boards in chain restaurants, similar retail food establishments and vending machines with 20 or more locations to provide consumers with more nutritional information about the foods they eat outside of the home. This applies to the locations if they are doing business under the same name and offering for sale substantially the same menu items.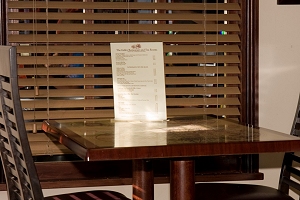 This impacts print menus as well. Covered food establishments will be required to clearly and conspicuously display calorie information for standard items on menus and menu boards, next to the name or price of the item. Seasonal menu items offered for sale as temporary menu items, daily specials and condiments for general use typically available on a counter or table are exempt from the labeling requirements. The rules are required by the 2010 Patient Protection and Affordable Care Act. Effective December 2015, all affected food industry retailers must adhere to the rules. Currently, some states and cities have their own rules for providing nutrition facts, but this new announcement calls for consistency across the country.
Food retailers will be required to display the calorie count information in type that is no smaller than the name and price of the food. Menus and menu boards must also read somewhere, "2,000 calories a day is used for general nutrition advice, but calorie needs vary." In addition, calorie information must be included on signs near hot buffets, salad bars and vending machines throughout the establishment. Retailers will also have to provide additional nutritional information upon request, which includes total calories, calories from fat, total fat, saturated fat, trans fat, cholesterol, sodium, total carbohydrates, sugars, fiber and protein.
The menu labeling rule also includes food facilities in entertainment venue chains such as movie theaters and amusement parks.
And, of special note: Alcoholic beverages are being included in the new rules, according to The New York Times. Another piece of big news: The inclusion of vending machines. Companies operating more than 20 vending machines will have two years to get nutritional information for all items posted on the exterior of the machines.
Now is the time to learn about menu and vending machine calorie posting requirements. Get started at the FDA information page here.
Of course, the sign industry has embraced LobbyCaster software to create menu boards, among other dynamic sign systems. This software is the most intuitive in the market, allowing you to change prices, add calorie counts, and design freely, all in a visual "canvas style" layout. Download for free today! Visit www.LobbyPOP.com and follow the links to LobbyCaster!