This is a new, regular feature of the LobbyPOP Blog, with the help of Alan C. Brawn and  Jonathan Brawn, founders of the Digital Signage Experts Group and creators of the Digital Signage Certified Experts program. My purpose, when I approached Alan for this series, was to draw attention to the ways that dynamic displays can be incorporated into the product mix offered by a sign shop, to complement other forms of signage and to create a more enticing end-user environment. I am grateful for Alan's contributions to the conversation.
Truth be told, all businesses are looking for opportunities for growth but in the case of the traditional sign industry that has seen relatively slow growth over the last few years, these new opportunities may be more addressable and attainable than some may have thought possible. We will begin by looking at the size of the market and then the individual segments that have already adopted dynamic digital signage. We will examine what we call "natural fit" applications that you can take advantage of and ultimately how to combine this in your business and keep it all in focus.
Just remember as we progress that the average dynamic digital signage system sale is between 1 to 5 displays and this type of average sale makes up the vast majority of this multi- billion dollar market.
We will start our journey of exploration with the size of the opportunity. The global dynamic digital signage market grew to nearly $14 billion by year-end 2013 according to IHS Inc. This report as well as others, sets worldwide revenue for dynamic digital signage equipment and also includes software, services and media with the US market accounting for over one third of that. By 2017, total dynamic digital signage will amount to $17.1 billion.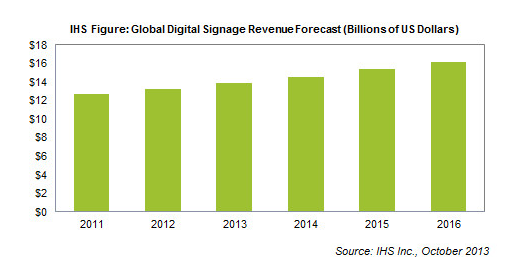 As a point of reference and comparison, it is estimated that the traditional signage industry generated just over $52 billion globally in 2013. As we look at the numbers, keep in mind that the dynamic digital signage industry as it exists today is approximately 10 years old, making the market revenue growth data even more significant and thus a very exciting opportunity.
No matter the size of the project, if we look at dynamic digital signage from an overall rate of growth estimates vary depending upon the specific research report but one thing is clear and that is the growth is in double digits and will continue for the foreseeable future.
Traditional signage will never go away but the addition of dynamic digital creates growth and re-energizes the market with new technologies that excite the senses. In short, it is not an either/or situation but an added opportunity to be embraced.
Now that we know the market size and the growth potential of dynamic digital signage, let's see how it fits into your existing client's needs and applications that you already address. Remember, that dynamic digital is an additional revenue stream and one that if nurtured will grow inside and beside your existing business. The secret is to understand it, embrace it, and profit from it by re-invigorating your client base with new and expanded thinking, products, and yes, opportunities.
Dynamic digital signage does a lot of what traditional signs do only with dynamic movement (not necessarily video by the way!) and the ability to change content upon demand. It is used for many different purposes/objectives but here are some of the most common applications of dynamic digital signage along with the estimated percentage of the overall dynamic digital signage business as it exist today:

As you can see there is huge overlap in the applications for traditional signage and dynamic digital. Most of you are currently involved in selling static signs to retail, quick serve restaurants, corporations, healthcare, entertainment venues, etc. We would suggest that sign shops do their own customer segment analysis assigning a percentage of your current business to each type of customer. This study will provide guidance on what niches to concentrate on as you add dynamic digital signage applications to your portfolio. This analysis can also be valuable in helping you to determine the percentage of incremental revenue available from your existing customer base.
In Part II of this series, we will look at what we call "natural fit" applications for dynamic digital. In other words, where does it simply make good business sense for a customer to add dynamic digital to their existing static sign infrastructure?
Be sure to visit the LobbyPOP YouTube channel for enhanced training and education videos.